Websites for design inspiration: How to create a distinct and timeless website

A collection of websites for design inspiration, steps to follow that will help create a distinct and timeless website.
There are a lot of things to consider when creating a website. You need to come up with an idea, design the website, choose the right hosting and domain, and write great content. But one of the most important things is making sure your website is distinct and timeless.
In this blog post, we will list the top 10 websites for design inspiration, discuss how to get your creative juices flowing, come up with great ideas for your website, and make sure it stands out from the competition!
Before we get started, let's get the boring stuff out of the way, you can always use the table of contents to jump to a specific section.
Why is a website needed?
If your answer to the above question is "yes, for online presence" then the chances are that your website might not be up to date with the latest trends.
The reason a website is needed in this day and age goes much beyond just an online presence.
A website should be the starting point of your marketing efforts because it's the first thing potential customers see when they search for your business.
To do that, your website must be:
Easy to find
Informative
Engaging
Distinctive
Think of your website as an investment, not a cost. The goal is to make sure that your website is bringing you more business than it costs to maintain.
Most agencies offer free design consultations to discuss your needs and goals. They will work together to come up with a plan that will help you achieve your objectives.
If you think you have the drive to do it all on your own, we've also got you covered!
How do you get started?
Workshop – Spend considerable time learning about the company, industry, market, and physical locations before working to determine what the website must accomplish.
Make a Plan – Once you have an understanding of the project, it's time to start planning out the home page, individual pages, and features. This is where you'll start putting together the puzzle.
Get Inspired – Look at other websites for inspiration but make sure not to copy them. The goal is to get inspired by their designs, not to plagiarize their work. Read on to see a full list of the 10 websites for design inspiration.
Design – Create style tiles, mood boards, and design element collages for a fully online experience by testing and demoing at every stage to ensure that the design and brand feel correct.
Development – Using the most up-to-date web design technologies, create mobile-friendly, responsive designs, and adaptable sites that are high-performing and easy to maintain.
Content – Keep in mind that, you will lose your competitive edge if you don't produce material for each page. To assist pages focused on a specific topic, maintain content optimization (SEO) in mind while creating materials for different pages.
Launch – Knowing your market and attracting visitors to your website is a key component of digital success. By using the latest tools and techniques, we can help you reach your target audience and achieve your pre-launch business goals.
Maintain – A website is not a "set it and forget it" proposition. You need to keep your site up-to-date with fresh visual content, copy, security patches, and design trends to ensure that it continues to be an asset for your business.
Now that we've gone over the basics of why you need a website and what goes into making one, let's move on to the fun part: coming up with ideas for your website and the top sources of inspiration!
Thinking up ideas for your website – get inspired.
Even if you gathered all the information under the sun during the workshops with the clients and think, "ah I have it all", it can sometimes be daunting, but it doesn't have to be.
If you're feeling stuck, don't worry, we've got you covered.
10 websites for design inspiration
1. Best Website Gallery
David Hellmann started this website in 2008. Since then, it has grown to become an online gallery of premium web design ideas. The site features a wide range of high-quality examples of websites built by talented designers from around the globe.
BWG is an online design gallery where users can browse through thousands of high-quality web designs. Users can easily tag each site to help them find what they're looking for. This helps users get exactly what they need when searching for a website.
Why you should go to BWG for website design inspiration?
The wide variety of creative inspiration and high-quality portfolio websites that are available through the "BWG" network make it an excellent resource for designers who want to find inspiration in other professionals' work or simply need a boost of creativity. The tagging system makes browsing easy on your part; you'll be able to search by category like 'agency web design,' which brings up all sites submitted with tags including 'agencies.' You're sure not going wrong when using this site as one tool among many others!
2. Behance – Discover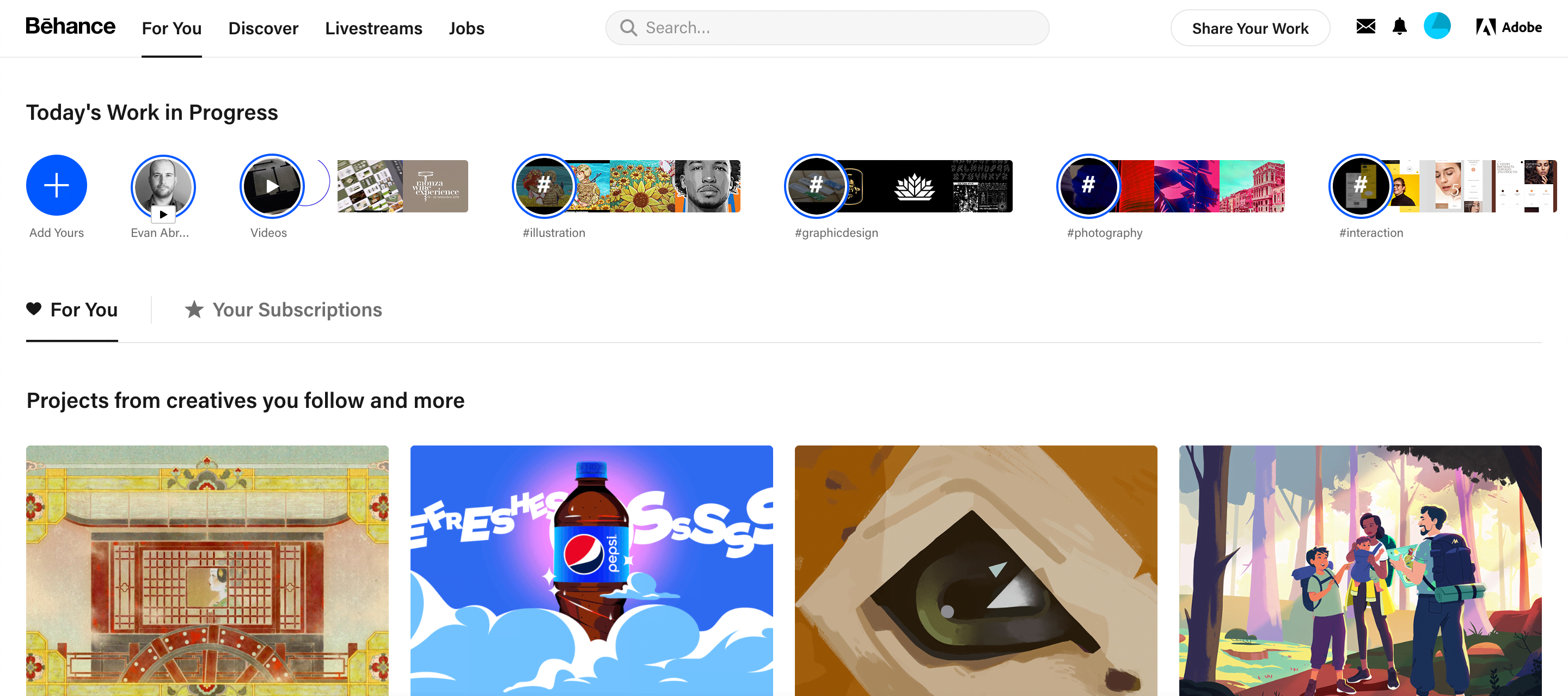 Behance's web design discovery tool makes it really easy to get inspired by other designers' amazing creations. You can choose different parameters like time frame, location, and popularity to narrow down your search. For example, you could do a search for the "best web designs from the last month in London" and find those image results.
Why you should go to Behance for web design inspiration
The creative design community at Adobe's Behance site has everything you need to design amazing visuals—from fonts and iconography, all the way down to UI Design inspiration. With detailed filters like "most appreciated," it's easy for designers of any skill level (or type!) to find just what they're looking for in seconds!
3. Awwwards
Awwwards is an annual awards program that recognizes excellence in web design. Each year, we invite the top designers and developers to submit their best work. We then ask them to nominate other talented individuals whose work deserves recognition. After reviewing all of the nominations, they select the winners.
Why you should go to Awwwards for web design inspiration?
The Awwwards website provides more in-depth information about the scoring system, which includes specific categories like design and creativity. This helps designers optimize because it offers breakdowns on these metrics as well!
4. CSS Nectar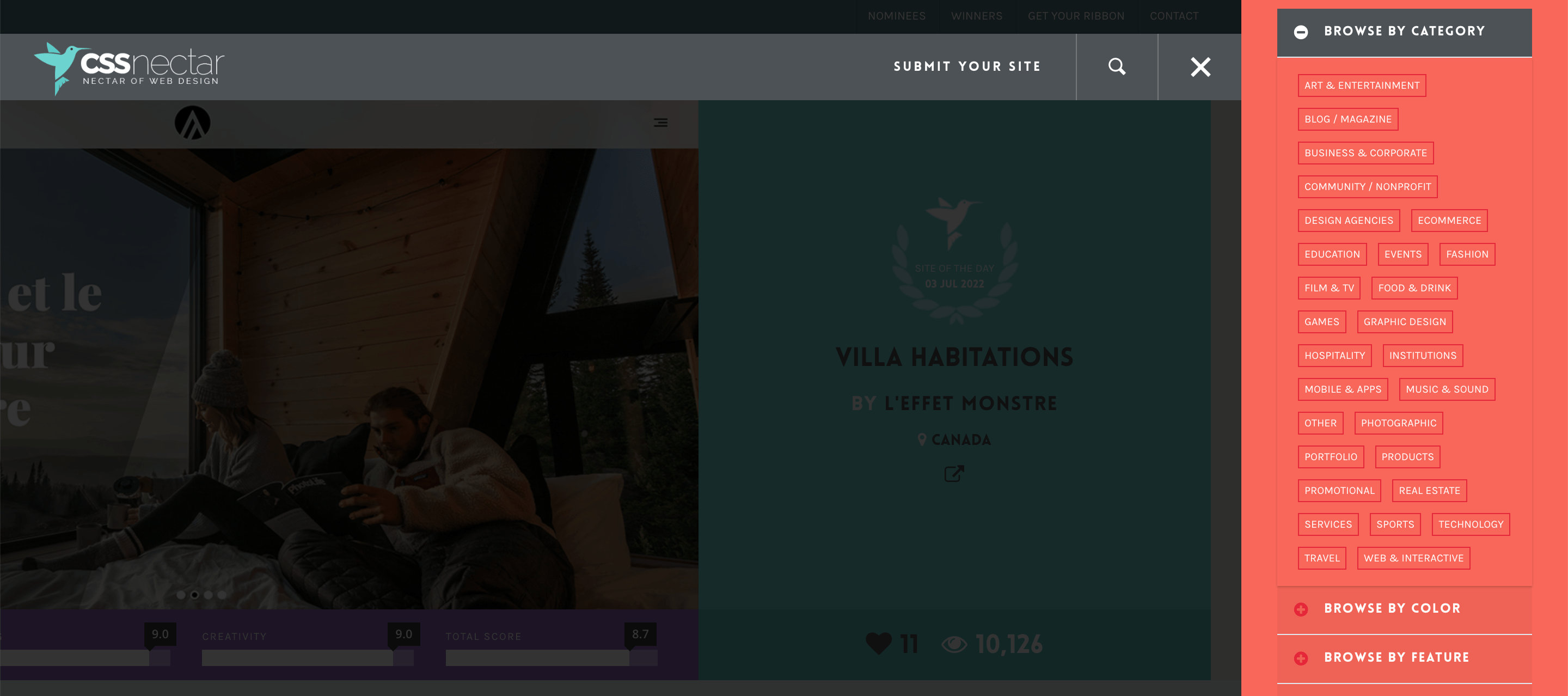 CSSnectar's design inspiration sites go through an extensive review process. First, there's an application fee to apply for a listing. Then, the site gets reviewed by a team of designers and developers. If everything looks great, the site will get listed.
Why you should go to CSSNectar for design inspiration
CSS Nectar makes finding inspiration for specific site types easy with their tags and filters, which include category – including web design tips; feature to showcase special projects or initiatives happening right now in different parts across the globe; country flag icon sets if you're looking into expanding your reach internationally (e.g., Philippines); color picking tool so users can easily customize colors on any website without having an account.
5. Abduzeedo
Abduzeedo offers a unique perspective on design, providing fresh ideas and insights on current topics. They also feature inspiring design articles about other related fields, including technology, art, culture, and science. Our goal is to help you expand your design horizons!
Why you should go to Abduzeedo for design inspiration?
The best way to get a fresh perspective on your next design project is by visiting Abduzeedo, which offers an array of creative disciplines for inspiration. From photography and architecture all the way down through digital designs they have you covered with everything from wallpapers or even IRL events!
6. Site Inspire
SiteInspire is a great website for finding inspiration! It offers a large collection of websites organized by topic. You can search through them using tags, like "web design inspiration" or "photography inspiration". There are also categories like "websites", "designs", and "photos".
Why you should go to siteInspire for web design inspiration?
SiteInspires provides a unique tagging system that helps you dial in the right design inspiration for your needs. The site offers both subject-based tags as well as style-based navigation options so whether it's an unusual layout or just some fresh visuals to help inspire, SiteInspire will get you there with ease!
7. Product Pages
Product Pages give you a great way to discover websites through their feed. You can browse through all the feeds in a list or grid format. If you click on any item in the feed, you'll see a preview of the page. You can then click on the link to go directly to the site. If you type in a keyword, you'll get an instant list of results. You can even filter the results by category.
Why you should go to Product Pages for web design inspiration?
Marketing persons want to know what buttons you should push when designing your site. If they're in need of some inspiration for product pages, this is where it's at! These sites offer great web design ideas and helpful optimization strategies that can be applied across many industries from e-commerce retailers like Amazon or Zappos who sell online courses as well anyone needing help developing their own website including bloggers wanting an improved user experience on social media platforms such Twitter & Facebook etc.
8. Commerce Cream
Commerce Cream curates some of our favorite websites submitted by design agencies. We've found that there are many different ways to create an eCommerce site, and we love seeing all of them! From simple to complex, we hope that you'll find something here that inspires your next project.
Why you should go to Commerce Cream for web design inspiration?
Commerce Cream is not just a place for finding eCommerce design inspiration; it's also an agency that features only high-quality online stores and has its agencies behind every single one. Anyone can submit any store they want, but only selected ones will be featured on the website – ensuring you'll find some amazing portfolios from top-tier web designing companies!
9. Dribbble
Dribbble is an online platform that allows users to upload and browse through other user's designs. Users can comment, like, and share designs, and even vote on them. Designers can also follow each other, which creates a social network within the site. Dribbble has become a place for designers to showcase their work, collaborate, and get feedback. It is a great source of inspiration for designers.
Why you should go to Dribbble for web design inspiration?
Dribbble is a site that features high-quality design work from around the world. You can find everything from print to web designs, and it's an excellent resource for finding inspiration outside of just website, graphic design or digital graphic designing.
10. The Great Discontent
Sometimes, inspiration doesn't come from a visual source. And isn't limited to any particular project. Instead, you might discover a motivating story that helps you push through your current situation and get to where you want to be.
If you're looking for inspiration, The Great Discontent can spark your creativity. Get involved in Q&A sessions with successful designers, art directors, illustrators, and others, and get some insights into what makes them tick.
Why you should go to The Great Discontent for web design inspiration?
How would you like to hear an intimate interview with one of the most iconic designers in this industry?
The Great Discontent is a new digital platform that interviews many different people from all around the world who have found success within their field. What does it take for someone to be successful, and why do we often forget about those stories behind our favorite works or creations by artists such as Monet, Picasso…the list goes on! This website will bring these individuals together so they can share what has made them special while also inspiring others along life's journey. One thing I thoroughly enjoyed doing was listening in awe at some stunningly beautiful artwork my friends had created- there really isn't anything else out there quite like TGD.
Why timeless design is important.
Having a few reliable websites to get inspired from can help you focus, collect your favorite design based sites, encouraging you to explore new design solutions, keep up with design trends, and push your creativity. However, it is essential to remember that not all trends are worth following.
When it comes to web design, there is a delicate balance between wanting your site to look modern and trendy while also ensuring that the design will not quickly become outdated. This is where timeless design comes in.
Timeless design is "the use of simple elements that will not date, and will always look fresh and new."
It is essential to create a website that not only looks good now but will also continue to look good in the years to come.
Design trends that are here to stay for a while.
Bold color schemes – The usage of bold colors is a trend that is here to stay for a long time. Bold colors are very eye-catching and make your content stand out more than it would if it were presented in a lighter shade.
Brutalist Websites – Brutalism is a style of architecture that emphasizes raw materials and industrialization. It tends to feature large blocks of concrete and steel and minimal ornamentation.
Minimal design or Minimalist design – Minimalism is a type of design style characterized by simplicity and restraint. It uses fewer objects and shapes and features clean lines and flat surfaces.
Clean lines – Clean lines are another popular trend when it comes to web design. They tend to emphasize the functionality of the page over its aesthetics.
Interactive design – Interactive design is a design technique that involves using technology to enhance the user experience.
Negative space – Negative space refers to empty space in a composition. In art, negative space is used to create contrast and add depth to a work of art.
Balance – Balance is a concept that involves achieving a sense of equilibrium among opposing forces. For example, having equal amounts of positive and negative space in a piece of art creates a balanced composition.
In order to give your customers a unique experience, it is essential for your website to have a unique design that is different from the competitors.
When designing or rebuilding a website, it's important to think about the overall goal of the site and how you want visitors to interact with it.
Keep in mind that good design is timeless—it should still look current years from now—and make sure you get started on your project by gathering inspiration from some of the top websites out there.
If you need help bringing your vision to life, our team is here to assist you every step of the way. Let us know what we can do to help!